XYO Price Up 28% After Crypto.com Announces Exclusive Campaign – The VR Soldier
XYO price is up 28% today, making it the biggest gainer on Crypto.com. With a 24 hour trading volume of $134 million, the market is definitely showing excitement when it comes to XYO. Let's take a closer look at what XYO actually is, and why the price is rising today.
XYO Network stands for XY Oracle Network. Dubbed "The Geospatial Oracle Network," XYO connects the real world with smart contracts.
As the name suggests, XYO Network is able to determine the specific XY coordinates of an object in the real world, all while running on a decentralized blockchain.
This type of technology is especially useful for the ecommerce industry that rely on geospatial data to route and confirm product deliveries.
We last reported on XYO price earlier this month, when the price increased by over 40% after the project was listed on Crypto.com.
Similarly, today Crypto.com announced a $50,000 campaign for simply trading XYO on their platform.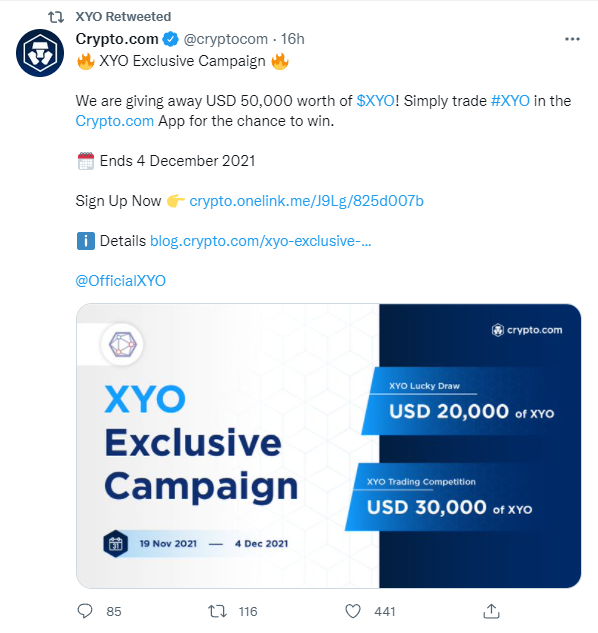 According to the tweet, which received over 441 likes, Crypto.com said:
"We are giving away USD 50,000 worth of XYO! Simply trade #XYO in the Crypto.com App for a chance to win."
The XYO campaign will be split into two parts. The first part is the lucky draw which requires users to trade a minimum of $50 worth of XYO on the platform. The prize pool for the first part is $20,000, and 500 users will win $40 worth of XYO.
The second part is for the top 500 users with the highest trading volume for XYO. The top 500 traders by volume will win up to $1,200 worth of XYO each.
It seems that the recent XYO campaign on Crypto.com is a big reason for this weekend's bullish momentum. After all, incentivizing users to trade XYO means more people are going to look into the project and realize its potential.
XYO makes for a great long-term hold for 2022, especially as the roadmap lists a few awesome milestones for Q1 of next year. Those milestones include:
Moreover, since December is usually crypto's hottest months, XYO might just surprise us before the end of the year. Definitely a great project that's worth watching for 2022.
Disclosure: This is not trading or investment advice. Always do your own research before buying any cryptocurrency.
Also Read:
Top 5 Metaverse Coins to Buy on Crypto.com
Follow us on twitter @thevrsoldier to stay up to date with the latest cryptocurrency news!
Paul Brabus is a crypto journalist and enthusiast. He loves reading and writing about all things crypto.
© 2021 The VR Soldier